Warehouses are usually dirty, unorganized and cluttered with goods. This leads to employees on the warehouse floor not being able to find what they need, wasting time and the company's money.
Having a clean warehouse is not only vital for the safety of workers and productivity, but it also shows your customers that you care about their needs. Warehouse cleaning also contributes to the company's bottom line, such as reducing costs by preventing accidents, minimizing downtime and improving efficiency.
Cleaning and maintaining your warehouse can be a tedious but necessary task. If you're not sure where to start or what to do, this article is for you! We'll cover how often you need to clean and maintain your warehouse, who should be involved in the process and what tools are needed to get the job done right.
With this article, we hope to provide you with a detailed guide to help you start cleaning up your warehouse today.
Planning in advance
Planning ahead is essential to ensuring that your warehouse cleaning process goes smoothly. If you are experiencing a large amount of traffic, including trucks and forklifts, you may need to set up striping and parking spaces so the heavy vehicles don't damage the hard surface of your warehouse floor. You'll also want to take note of the items that come into your warehouse and what they are used for. This will give you an idea as to which items should be prioritized when it comes time to clean them.
The warehouse supervisor should be aware of what materials are stored, where and when they will need to be replaced. This way, the cleaner can plan for the most efficient route to be used in order to complete their tasks. Additionally, by using a cleaning checklist, the supervisor can check off each task as it is completed.
Preparing the right tools
The right tools are very important when it comes to warehouse cleaning. Picking the right detergents and dry sweeping is going to improve your work efficiency. Make sure the place you're about to clean is well lit so that you can see all the dirt you're removing.
Use a broom with a long handle to reach places that are out of reach, like on top of shelves or high ceilings, duster, dustpan to sweep up and collect any debris on the floor and thrash bags

The most important tool is a vacuum cleaner that helps remove the dirt. It is the best tool to use for cleaning surfaces such as floors and walls, under equipment, or other hard to reach areas. It should come equipped with a crevice tool that can clean out all the nooks and crannies where dirt often gathers.

Next thing, We need to mop and wipe down the floor with hot water and soap or Cleaning detergents, they can make the job easier by removing tough stains effortlessly.

If you are cleaning up products that have been spilled on the floor, it's important to contain it with a spill containment mat to protect the floor and any other surrounding surface from getting dirty. Use rubber gloves to protect from chemicals – Wear protective gear like goggles and respirators when needed

You should also have paper towels and a bucket of water with some soap in it.

Different surfaces will need different types of cleaning products so it's best to have on hand surface cleaners like dish soap, floor cleaners, window cleaners and carpet cleaning chemicals

For outside hard floor dirt and loading bay areas, We need a high pressure water jet machine and scrub brush to get rid of dirt and grime.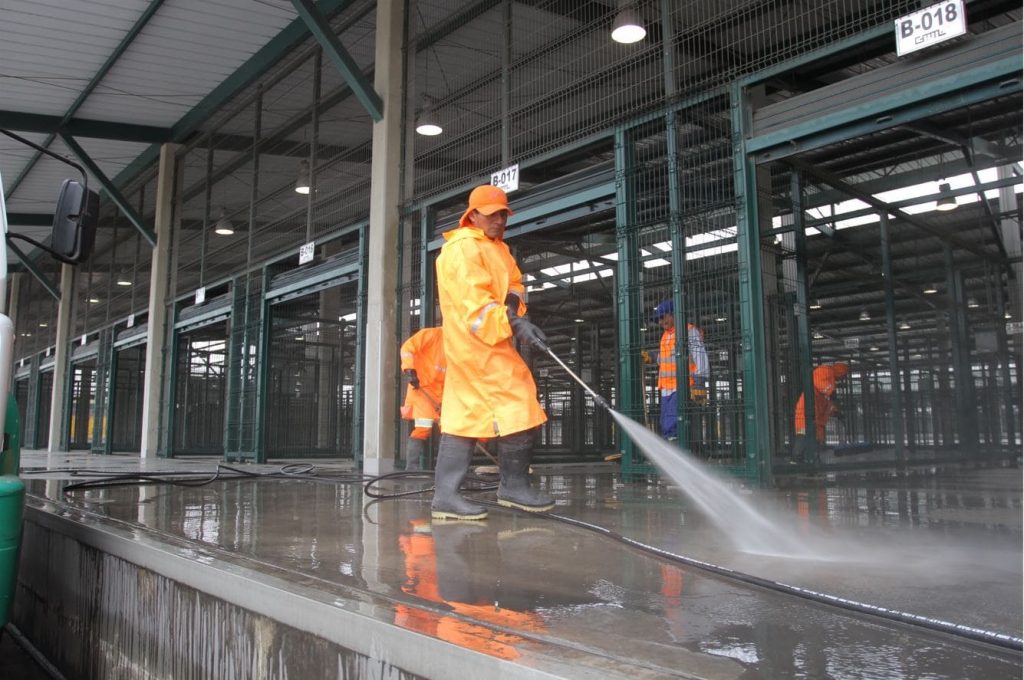 Other necessities would include a ladder at least six feet tall for easy access to high shelves and high dusting poles.

Disinfectants
Basic cleaning
Basic cleaning of a warehouse is relatively easy. 
The first step is to sweep the floor with a common broom or dustpan to make sure that it is clear of any dust and vacuum it.
Squeegee is needed for any glass windows within the warehouse that may have gotten dirty from outside debris.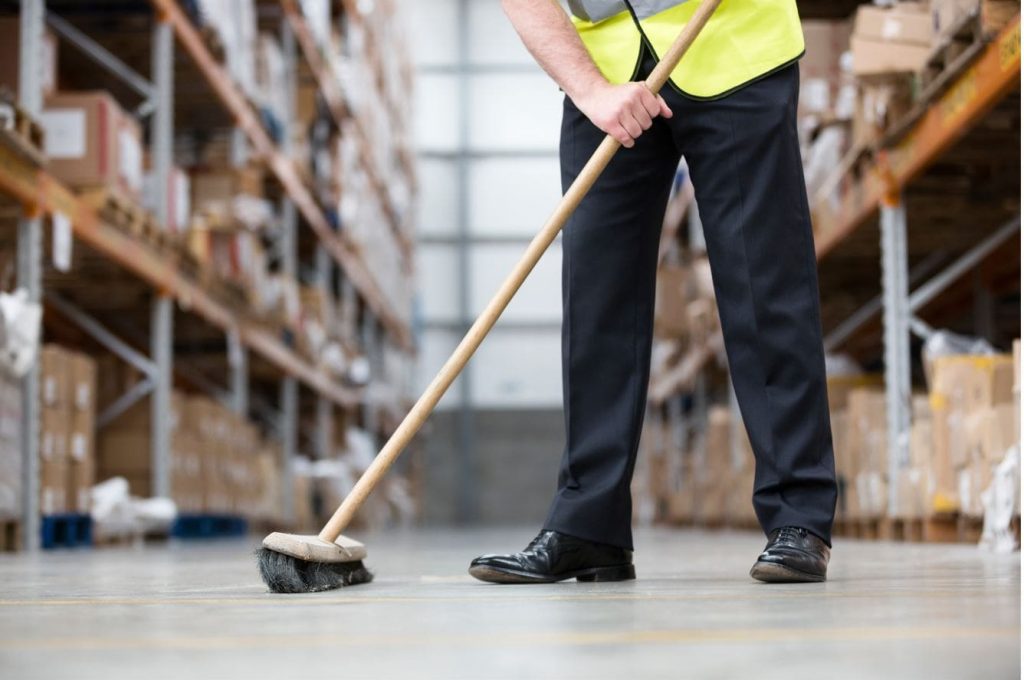 Then, you should mop the whole warehouse floors with disinfectant to eliminate any bacteria that may be present on the ground and clean up any spilled material.
Dispose of garbage and take out for the recycling.
Clean, scrub & disinfect bathroom areas 
Clean & wipe the machineries and 

Disinfect high touch areas such as door handles, computer accessories, chairs, light Switch, shelves and pallets, trolleys and trolley Handles, keys and grab bars
Some more advanced cleaning techniques are also possible according to the size and layout of the warehouse.
Deep cleaning
Deep cleaning is the most important type of warehouse cleaning. This type of cleaning goes beyond a surface clean to reach dirt and grime that hides deep in the cracks. Deep cleaning is a process that can be done every few years to keep things clean and safe. You need to remove all dust, dirt, grease and other contaminants from hard to reach areas like under shelves, door frames and machinery. Dirt buildup can create safety hazards by attracting pests and providing a haven for mold.
To minimize the risks of contamination, it is important to do a deep cleaning of the warehouse before the new products are delivered. A deep cleaning involves removing old equipment that the company no longer needs and getting rid of clutter and dirt. The walls should be wiped down and all of the surfaces will need to be scrubbed by hand. After this is done, they should be power-washed with an eco-friendly cleaner and then rinsed and dried.
Warehouse cleaning checklist
When it comes to keeping your warehouse clean, a little planning can go for a long way. By creating a warehouse cleaning checklist, you can ensure that all the necessary tasks are completed on a regular basis.
Daily Warehouse Cleaning Checklist
Sweep and mop the warehouse floors, vacuum all carpeted areas.

Empty garbage bins and waste baskets

Clean bathroom areas, scrub toilets and sinks with cleaning solution and refill soap, tissues and toilet papers if needed.

Wipe off any spills on floors, walls and furniture immediately to prevent staining.

Wipe off all high touch areas and countertops with disinfectant solution.
Weekly Warehouse Cleaning Checklist
Dusting all surfaces including ledges, shelves, and equipment.

Clean all glass windows, mirrors and door frames.

Dust off light fixtures and high ceiling areas.

Empty and clean all trash cans and recycle bins.
Monthly Warehouse Cleaning Checklist
Clean pathways, outside areas and loading/unloading bays with high pressure water jet cleaning

Scrub the walls clean

Carpet cleaning wherever it's necessary

Wipe off all signages and fixtures in warehouse
Conclusion
The tips in this article will help you keep your warehouse clean and organized. The warehouse is an industrialized and efficient area that often requires specialized cleaning techniques, equipment, and expertise to keep it looking its best. By following the suggestions in this guide, you'll be on your way to creating a clean and sanitary environment for your staff and products.
Warehouse spaces and storage facilities are tough to clean. When you're busy with your day-to-day operations, it's easy to lose track of the cleaning checklists that need to be done.
Natoma Cleaning Services is a company that specializes in warehouse cleaning. We offer services for all types of warehouses including cold storage, manufacturing, process and materials handling facilities. We have expert knowledge on how to get the job done efficiently with the least amount of disruption to your operations. For those who need assistance with their warehouse facilities cleaning,  Natoma services is the best option.
Book an appointment today, and let us find you an appropriate schedule that won't interfere with your daily operations. Check out our website, or go through our blogs for more information.
Follow us on